2023 Dates: Friday Jan 27 – Sunday Jan 29

RainyCamp will be virtual for 2023 (And free)
Donate Here to support RainyCamp
-Click the TipJar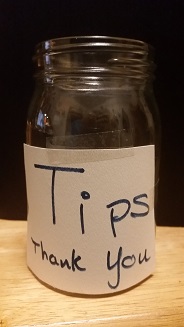 Be sure to designate for RainyCamp.
Note much information on this site refers to the on-site camp which we can't wait to  return to once it is safe and economics are tenable.

Nestled among the evergreens on the edge of a lake with mountains in the distance Lake Retreat and Conference Center is the perfect place to for RainyCamp! Great acoustics, good food, comfortable beds, warmth, and a weekend of song!
Pre-registration is required.
This is our sixth year for RainyCamp at Lake Retreat Conference Center in Ravensdale, WA!
It is beautiful, has great acoustics, and offers paved walkways, much better workshop space and wonderful accommodations with heat and individual bathrooms with showers. The camp has Wi-Fi in most spaces.
In 2017, we discovered what a nice space Okerson was for the concert, and accommodations. In 2018, several of these rooms went unoccupied despite acclaim by those who chose Okerson.
Workshops
There are a number of scheduled workshops on Saturday and Sunday, and always space left for do-it-yourself ones.
As RainyCamp is an offshoot of Seattle Song Circle, most workshops are in song circle format (participants take turns to lead, request, or pass), other workshops may be presentations or instructional in nature.
Subjects in past years have ranged from Celtic, Sea Shanties, Bawdy and Parodies to Gospel, French-Canadian and Songwriting. A materials allowance of $10 is available for workshop leaders. A small recording studio is also available.
Although the primary focus of the weekend is singing, instrumental jams are common and space is available for them.
Evenings
Friday Evening Song Circle — We kick off camp on Friday evening after the dinner with a big song circle. It is a very welcoming wonderful start to a weekend of singing. The Song Circle is held in the Chapel and some hardy souls will sing most of the night!
Saturday Evening Concert — Saturday evening after dinner, we hold a participant concert that goes most of the evening. People can sign up to perform solo or with other campers. The concert is followed by several song circles in various late night workshop rooms as well.
Meals
Lake Retreat has a wonderful chef and cooking staff. The food is great!
All meals are catered by camp staff. Served buffet style both omnivore and vegetarian options are offered.  (Please note that need on your registration form.) If you have special dietary needs beyond those you are welcome to bring along additional food.
We kick off the camp on Friday evening with a hot meal. The Friday dinner has moved from a problematic potluck to an inexpensive catered meal that is a mere $10 additional. That's cheaper than it will cost you to eat out! For those arriving later in the evening, we can box your meal and have it ready and waiting for you.  Please call us that evening to select your meal.
There is no alcohol allowed at camp per Lake Retreat Center rules.  New camp dining hall below.  Food served buffet style, coffee, tea and soft drinks at meals.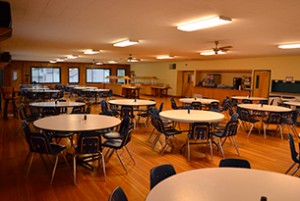 Children
Children are always welcome, but must be supervised, and their parents are responsible for seeing that this is done.
We have no children specific activities but are open to adding some if you would like to take the lead. Please indicate on your registration if you'd be interested in planning some activities (e.g. nature walks, games, special music singing workshops for little ones, etc).
Click here to Sign Up for our mailing list
The Auction
RainyCamp Silent Auction, to benefit the campership fund and help keep camp rates low overall. Bidding will open on the Friday evening of camp, and continue until Saturday evening. Shortly after the close of bidding, we will contact the high bidders so they can pay for and collect their items before the close of Rainy Camp. Please bring a checkbook or cash to help process payments.
We are looking for donations of goods or services that we can auction off. (Donations that meet their minimum bid are tax deductible at their retail value).
You can register your auction donation online ahead of time and save steps when you check in at camp.   The link is here.
For more information: auction@rainycamp.org
Rates
*RainyCamp is a program of the Seattle Folklore Society. We encourage you to join or renew your membership when you register. During early registration SFS members get a discount on adult tickets (or a discount on joining SFS!).
Important:  Virtual RainyCamp 2022 is Free.
| | | | |
| --- | --- | --- | --- |
| | Early Non-Member | Early Member * | After Dec 15 |
| Adult 31+ | $165 | $155 |  $170 |
| Young Adult: age 19-30 | $145 |  $135 |  $150 |
| Teen: age 12-18 | $145 |  $140 |  $150 |
| Kids: age 3-11 | $100 |  $105 |  $110 |
| Sat. Only | $75 |  $75 |  $75 |
*The discount also applies to Portland Folklore Society since we have a reciprocal agreement for their camp.
Refund Policy
If the weather makes getting to the camp impossible (as opposed to just difficult), we will refund as much of your money as we can after deducting non-recoverable expenses.
Otherwise, refunds will be as follows: Up to 2 weeks before the event, 100% refund (minus PayPal costs); Up to 3 days before the event, partial refund (again, depending on expenses); Less than 3 days before the event, no refund.
Accomodations
We are very excited about the great sleeping accommodations at Lake Retreat. Such an improvement! We have ample beds reserved so that though the dorm rooms are shared sleeping spaces there is room to spread out. Not all beds will be filled.  There are no private rooms at RainyCamp, however, you can see who you are rooming with through the room sign-up system.
For more information about the accommodations visit: About Accommodations
Almost all the rooms have a combination of single mattress bunk beds (with ladders) and double/queen beds. All rooms have power outlets  There are rooms for snorers, men only and women only, mixed, and rooms with handicapped access.
Your registration confirmation email will provide you with instructions to reserve your bed and dorm room.